Gallery
Here are some photos of painted H.O.S.T. bodies and also some other pictures
that may be of interest.
These are a couple of shots of the Concours winner from the 2008 HOPRA Nationals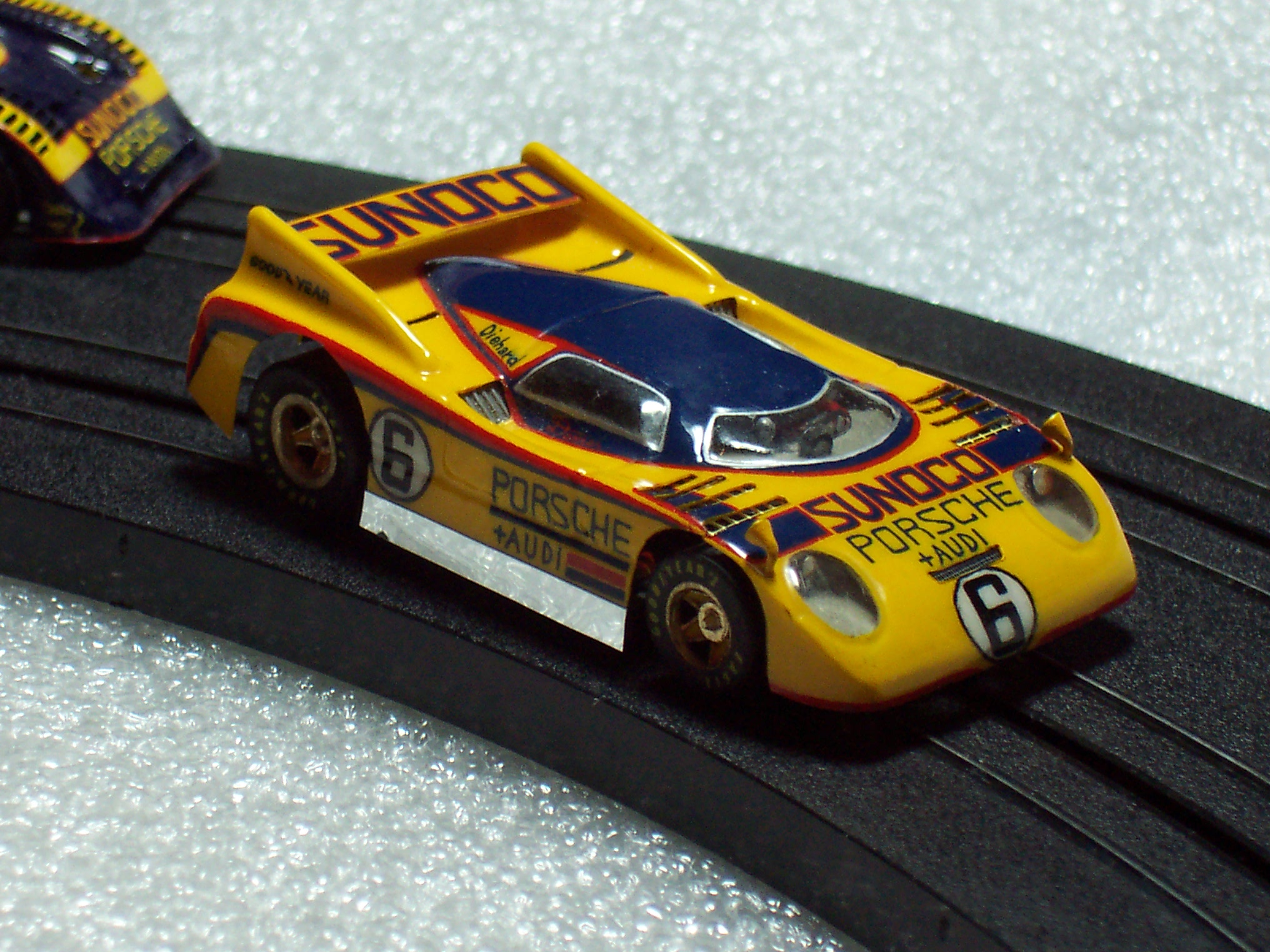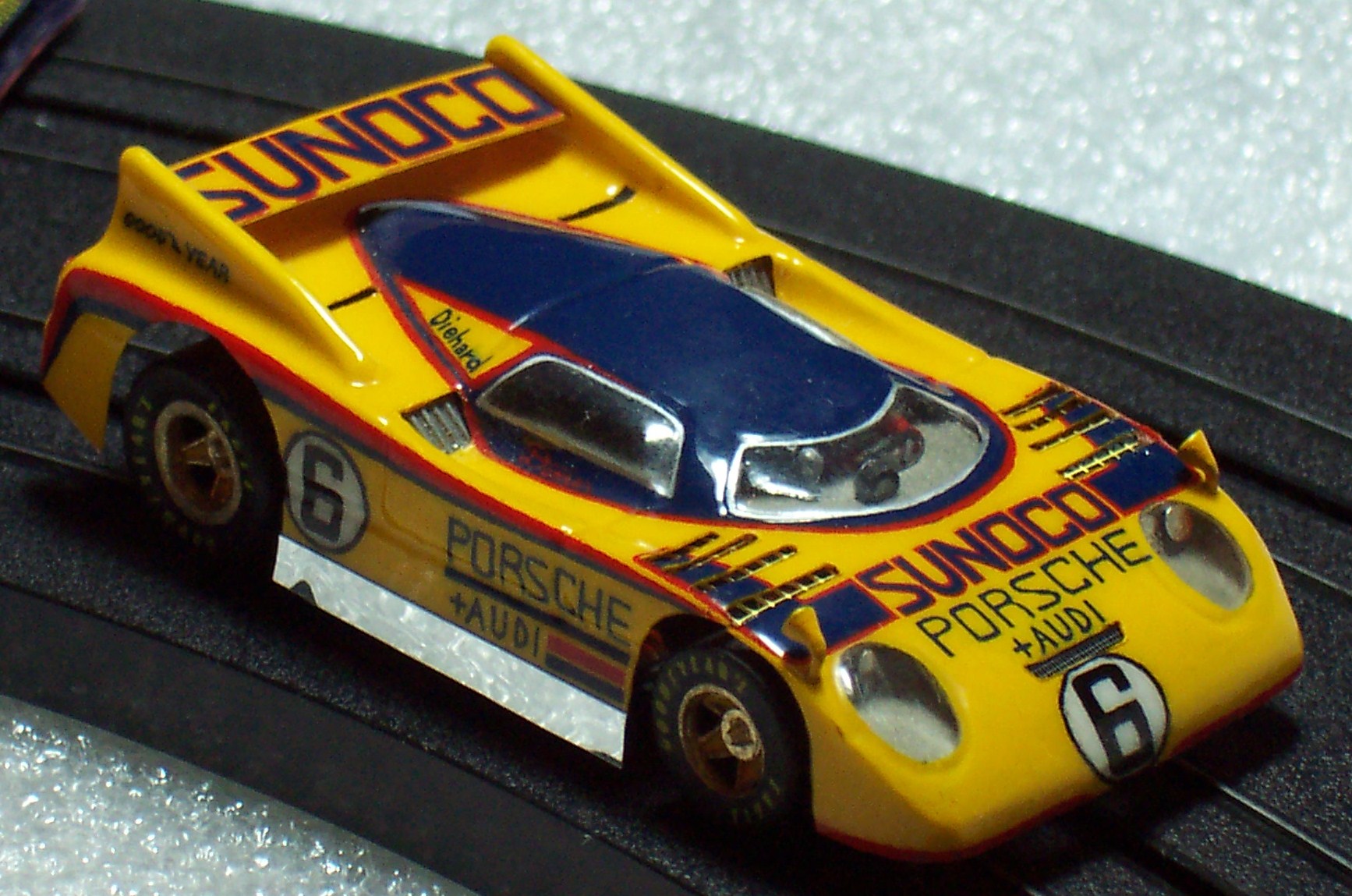 This is an old Rhino Porsche 908 that is all hand-painted! It was originally raced in a MI HOPRA event in
January of 1982 on an original G-Plus chassis and finished the race in third place on that day.
Here is the chassis that went under that body. A HOPRA Restricted Open G-Plus (original G-Plus) car circa 1982.
This represents what was run at the time, but was by no means 'state of the art' for the era – I was just
beginning in racing at the time.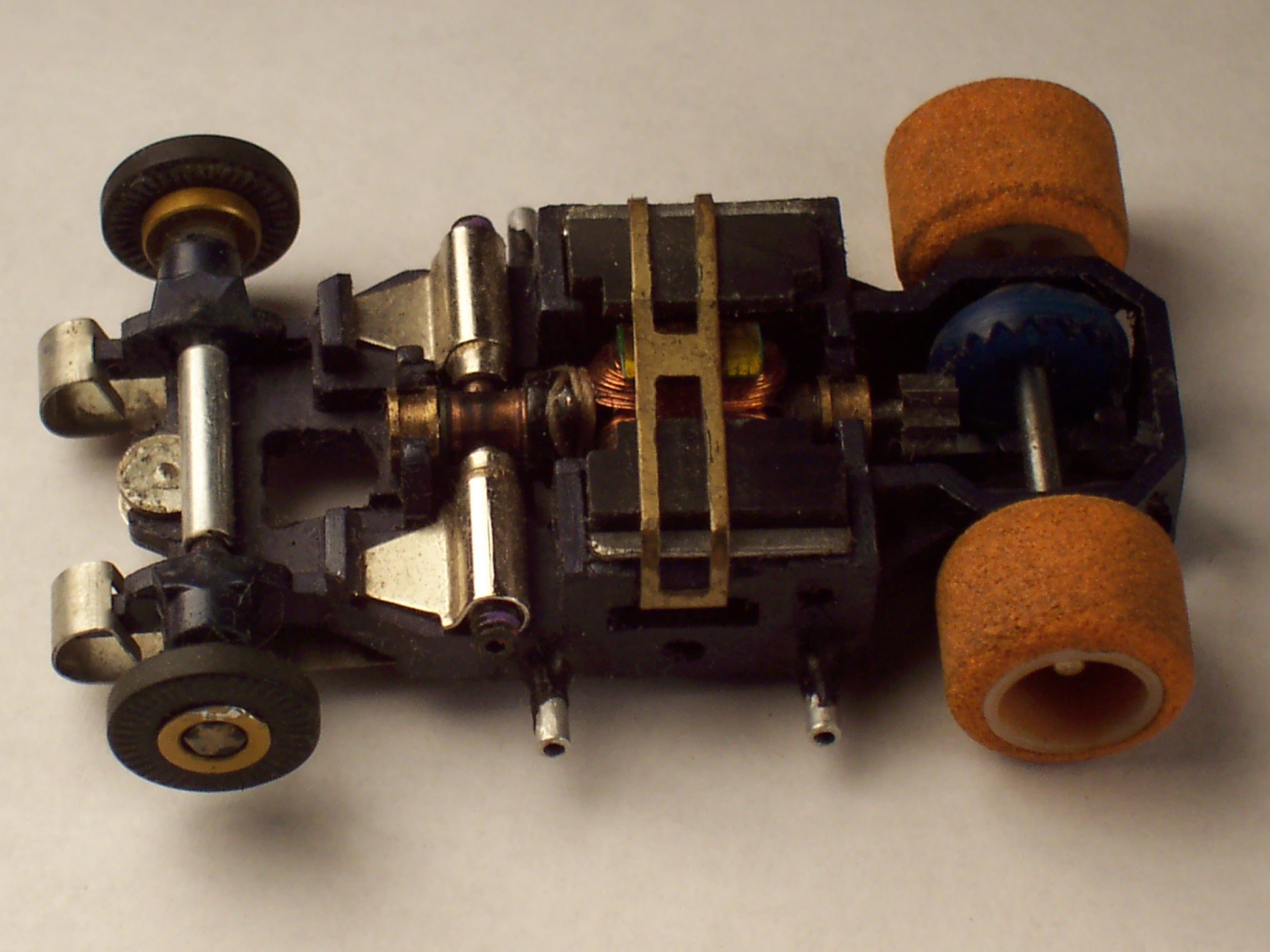 The body mounts were 1/16th inch aluminum tubes epoxied into holes drilled in the chassis. Holes were also
drilled into the brush barrels to tap the outside and run 2-56 set screws to adjust the brush tension. That's
right folks, if you wanted adjustable brush barrels back then, you did it yourself. A small dab of paint was used
to keep the brush barrel set-screws from backing themselves out. The guide pin is a stock G-Plus unit that had
the original pin portion drilled out and replaced by a drill blank for better wear. The pickups were silver plated
replacement ones that were flattened out and look like they could use a little cleaning after 27 + years.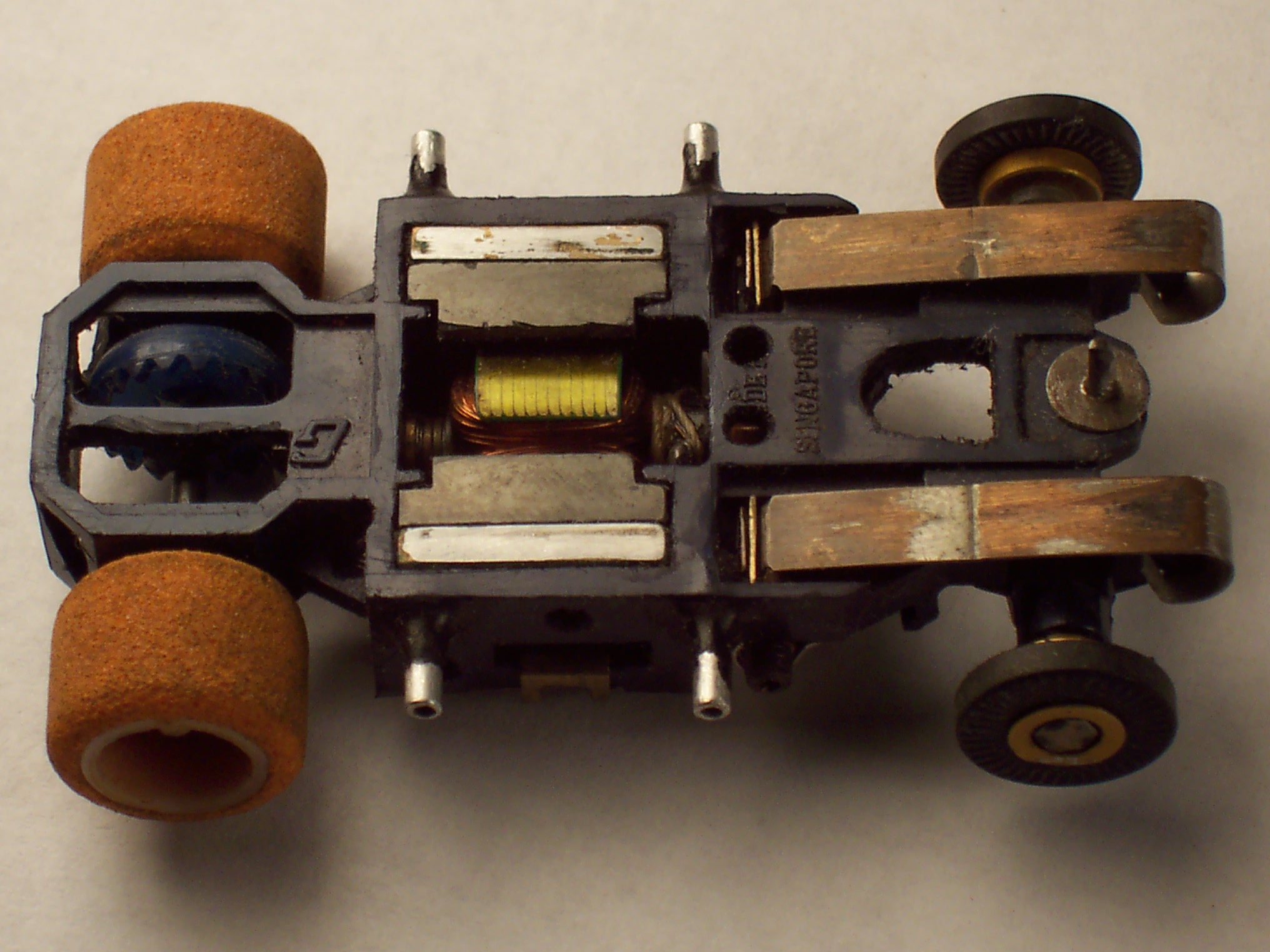 The stock ceramic magnets were on the stock flux collectors that were carefully fitted to the magnets and
chassis and the bottom side of the flux covers were covered in .005 chrome plated bronze. This allowed the
car to run right down on the rails without 'sticking' and the chrome plating kept the track rails from wearing
through the covering. Some holes were drilled into the chassis for 'lightening' and the magnet retaining clip
had much of it removed to keep the weight off.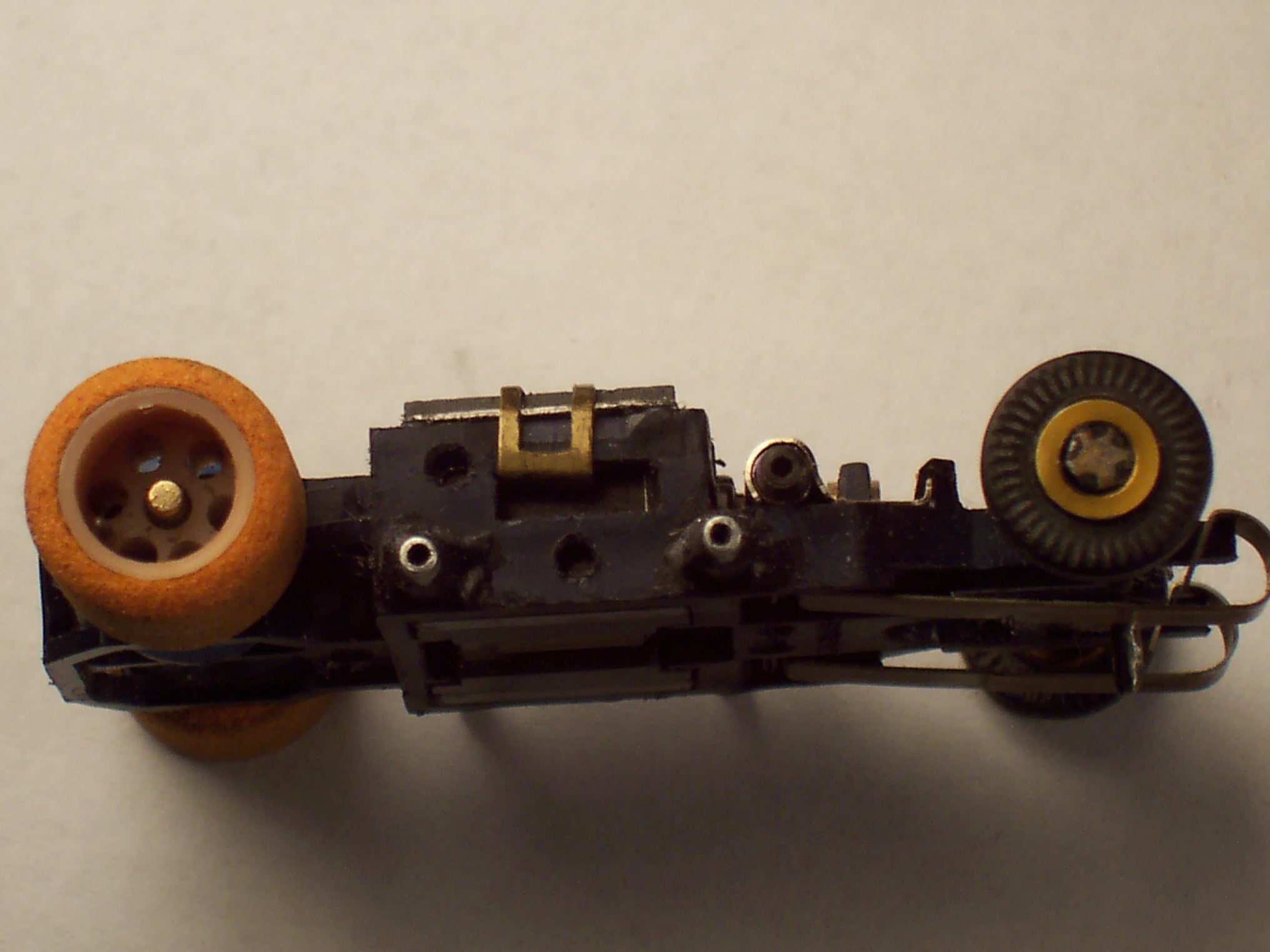 The front wheels were the original TCP aluminum rims (later bought by BSRT) that were on a 1/16th axle and
used solder on retainers. A close look at the front tires will show them to be original T-jet rubber. The rear
wheels are HP delrin push on rims with non-coated sponge. You could cut your tires to size the day of the race
if you needed to and we ran with glue (tire traction compound).
The crown gear is a dyed Cobra 20T nylon crown and the steel 8T pinions were cut down 1/24th FAAS gears,
although the pinion pictured is a later introduced BSRT steel one. I know that the arm, gear and bearings are
later upgrades than what was in the car at the time. The original bearings would have been stock G-Plus and
the motor might have just been a BSRT Hi-Power (green wire) one for that race.
A different era with cars that drove much different than today's cars.
This Web Page Created with PageBreeze Free HTML Editor